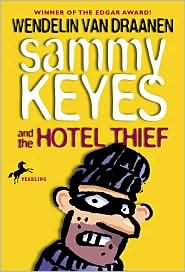 Sammy Keyes is a 12 year old detective/spy who lives in a Senior Highrise with her Grandma, while her mother is in Hollywood pursuing her acting career. In all the books in the series Sammy encounters many charming characters and solves awesome mysteries. I would recommend this series for girls ages 11+.
Synopsis for The Hotel Thief (The first book in the series)
Sammy Keyes is perusing the neighborhood through binoculars when she spots something fishy at the hotel across the street from the Senior Highrise. She's sure she's just seen a robbery, now she just has to prove it. The Hotel Thief is the first book in the exciting series of middle-grade mysteries starring the smart and spunky seventh-grade ace detective.